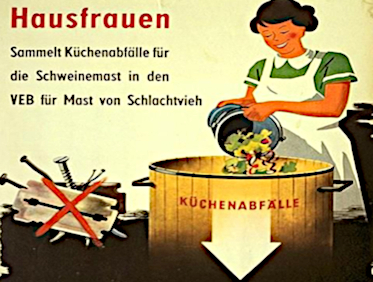 The VEB Ungelsheim is currently still in the legal form of a commercial sole proprietorship. Currently, a spin-off into a family cooperative is being planned. This will be done in view of the manifold possibilities for the entrepreneurial design of collective services, which will be sorted around the unbreakable core of the family. From there the name "VEB" was chosen with care, as we see the family not only as a retreat from but also as the nucleus of: society.
Unfortunately, the whole family can no longer be included, as in the meantime some of the clan prefer to work elsewhere, for example as a beadle of the state with pension entitlement. But in my opinion - and I say this in my role as head of the family and also chairman of the cooperative - the remaining hard core represents a sufficiently competent troop.
So what do these collective achievements of our cooperative consist of?
On the one hand, the now established vinyl business will be continued and expanded. A flourishing trade with junk and branded clothes on eBay now forms a solid second mainstay.
The lucrative business idea of a trabant agency unfortunately had to give way to the changed environmental awareness - thanks (for nothing at all) Greta. But true to the motto: 当变化的风吹起时,有人会造墙,有人会造风车 "When the winds of change blow, some people build walls, others build windmills", we at the VEB have also set ourselves this challenge; modern mobility concepts that are also and especially aimed at the younger ones of us are currently in the pipeline.
In any case: you can't stand on one leg - and so for us, "diversification" is more than just a vocabulary from the playing field of consultant bullshit bingo, but has always been firmly anchored in our entrepreneurial genes.
Individual initiatives, such as the used urn rental business, have also proven to be, let's face it, pretty much a complete washout...
There's some further initiatives; We are now putting special further hope in our plans for cat tracking systems and our book projects.
It should not be concealed that our classic real estate business may also benefit from the form of the family cooperative in terms of taxes.

Jörg
Big Pictures Little Painter