A tiny treasure in the very south of Duisburg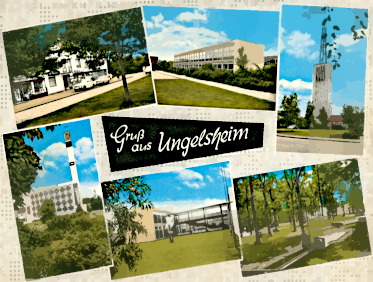 Ungelsheim is a quiet residential area, but it also offers a little variety.
Downtown, at the central Karl-Hartzig-Park, not far from the modest bower of the author of these lines, until 2018, there was a modern financial institution with its own ATM, where cardholders could dispose of their money even at night.
An Indian with an integrated post office has remained, a baker and a pharmacy with products such as pizza, socks, rolls and aspirin round off the supply of the incessantly aging local population.
A few minutes' walk from here to the west will take you to the New Apostolic Church, an architectural gem of the late 19th century and 1950s. It was closed about ten years after the beginning of the third millennium. Since then, no ringing on Sundays has disturbed the morning peace of Ungelsheim.
The staircase of the desecrated church invites you to linger, and a glass container for the disposal of emptied bottles is within walking distance.
The Anger - a small green-fringed river - forms the eastern flank of the settlement. It's as if it murmurs a quiet "What the heck!?" to the leaving visitors.